Are you terrified of failing? Here's how to get over your fear of failure and turn it into something positive…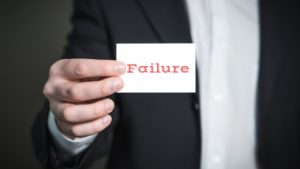 I meet people every single day who are full of fear. They're scared of failing, they're scared of prospective clients saying no to them, and they're terrified of not succeeding in their chosen careers. Let me let you in on a little secret- I've failed many times, but I honestly believe that those past failures have helped me become the man that I am today. I've learnt not to fear failure. Instead, I embrace it, and learn from it! Believe it or not, failing isn't the worst thing that can happen to you!
If you're struggling with the fear of failure then read my top tips on how you can overcome it!
EVERYTHING YOU'VE EVER WANTED IS ON THE OPPOSITE SIDE OF FEAR:
Many people desperately crave change, and yet they're uncomfortable and terrified when it occurs. If you want to be successful, you'll have to realise that change is inevitable and very necessary in order for businesses to survive and thrive. Fear can stop us from doing great things. For example, fear of failure or loss of money often holds people back from becoming an entrepreneur and starting a business. If I had let this kind of irrational fear stand in the way of me starting my first business, I wouldn't be where I am today.
FALL DOWN SEVEN TIMES, STAND UP EIGHT:
The Japanese have a wonderful saying: "fall down seven times, stand up eight." Some of the greatest leaders of our time have experienced failure. But they have learnt to use this to their advantage. Failure is not failure if you learn to grow from it. And growth would be impossible without some change. 
HOW BADLY DO YOU WANT TO ACHIEVE YOUR DREAMS?
In order to achieve your goals you'll have to move past your fear. A quick way to assess whether you really want something is to imagine yourself when you are 80 years old, nearing the end of your life, having not achieved any of your dreams. What are your regrets? What do you wish you had made more time for? What do you wish you had tried? Is there sadness and regret? Are you wondering, "what if…?"
The only thing scarier than failure is regret. Chances are, if you think you'll regret anything later on in life then you shouldn't be letting anything stand in your way.
RECOGNISE YOUR EXCUSES:
We all make excuses: "There's just not enough time", "I don't have the money or the resources to start my own business", "I'm just too busy". We hide behind these excuses because they're safe. But nothing great ever happens when you're stuck in the safe zone. Every time you find yourself making excuses, stop! Hold yourself accountable and stop limiting your progress by playing it safe.
ADOPT A GROWTH MINDSET:
The most successful people are the ones who believe in themselves and believe in fostering a growth mindset. People often give up on what they want because they believe that reaching their goal is beyond their abilities. The next time you're faced with a challenge think of your abilities as flexible, rather than fixed. Think of this challenge as an opportunity to adopt a new strategy.
FAILURE BRINGS VALUABLE INSIGHT:
Failure, disappointment, and dead-ends can help refine what it is that you really want. These can all be used as a means of reflecting and saying, "This didn't work. How can I make it work better?" Remember that fear is in your mind. Humans are built to adapt and deal with failure and diversions. Use each experience as a tool to help you learn more about yourself and what you really want.
KNOW THAT FAILURE IS INEVITABLE:
The best cure for fear is the realisation that you will fail. It's actually not as daunting as you think. Any successful person will agree that it's just part of the process. Failure offers insights and inherently corrects the faulty ways of approaching a problem. There is no teacher as impactful as the sting of failure. Use these experiences to adjust your strategy and start again.
RATIONALISE YOUR FEAR:
What exactly is it that you're scared of? The quickest way to overcome your fear is to understand it. If you're afraid of your business failing, take a few steps back and start visualising all the positives. Write down everything that scares you and then next to those negatives replace them with positives. The more you do something the easier it becomes. That's why it's important to do what scares you. Do something that scares you each and every day. Start with small things and work your way up to bigger things. Stop over thinking and just do it! You'll soon wonder what it was that you were ever afraid of.